Groot Ship Design supplies design for Hanse ECO Project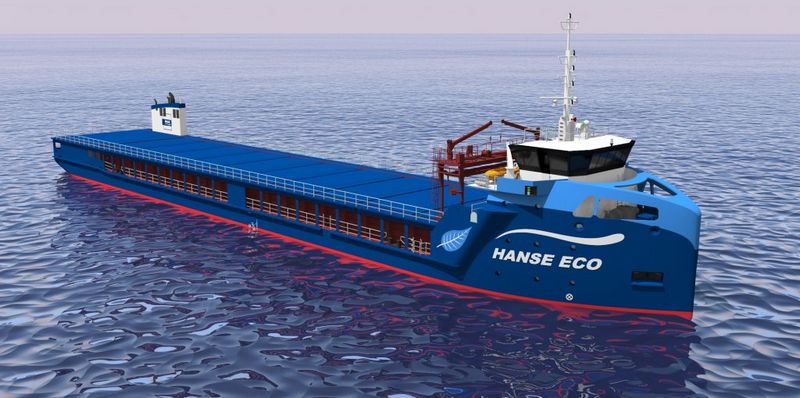 Recently Groot Ship Design successfully completed and delivered the concept design for the 'Hanse Eco' project of RHENUS-ARKON-SHIPINVEST GMBH & CO. KG. (RHAS). RHAS
is a cooperation between logistics expert Rhenus Logistics and operator Arkon Shipping.
RHAS just announced officially the building of the first 4 vessels according the design. The building contract is awarded to DaYang Offshore Equipment Co., Ltd. (DYOE) in China.
After starting the design project with RHAS in 2017, Groot Ship Design worked with RHAS, DNVGL, HSVA (from Germany), Eekels, Coops & Nieborg (from the Netherlands) and
ABC engines (Belgium) to further develop and optimize the design. Together with RHAS and a strong network in China the best suiting building place for building the first vessels
was found at DYOE. Groot Ship Design will supply to DYOE all design information and a basic engineering package for building the ships according the shipbuilding specification, actual rules and regulations and latest technological developments in minimizing the effects of shipping on the environment.
Result is an extremely efficient and environmentally friendly design, incorporating:
Large cargohold with flexible intake and flexible cargo storage. Vessel deadweight will be 4200DWT;
Ability to sail without cargo hatches (open top design);
Efficient propulsion / power generation ensuring low consumption figures and low OPEX;
The powering onboard is prepared for future use of batteries ('battery-ready');
Ergonomic accommodation and wheelhouse, located on the foreship;
Wheelhouse with 'high visibility';
High level of automation of the systems onboard. Ready or prepared for shore support including stability, preparations for next voyages and ship's maintenance;
The vessel is designed and will be build according DNVGL and Dutch authorities (flagstate) rules and regulations;
Delivery of the first vessel is planned for early 2021.
The Hanse ECO design is believed to set a new standard for European short sea shipping. The standard will be used by RHAS as platform to implement future developments in
making short sea shipping more sustainable and environmentally friendly. Use of batteries, use of hydrogen in combination with fuel cells, automation and other
technologies to allow electrical propulsion are believed to turn into reality in the future years to come.
For further information:
RHAS: https://www.rhenus-arkon-shipinvest.eu/
Arkon Shipping: https://www.arkon-shipping.eu/
Rhenus Logistics: https://www.rhenus.com/en/de/
DYOE: http://dyoffshore.com/english/index.asp
Groot Ship Design: https://www.grootshipdesign.com/
Company information Groot Ship Design B.V.
Groot Ship Design is a design house located in the Netherlands with a wide experience in designing and engineering all kinds of seagoing cargo vessels. The portfolio of projects includes heavy lift vessels, dry cargo multipurpose vessels, short sea vessels, tankers (products and LNG), container vessels and special cargo vessels like livestock carriers, orange juice carrier, offshore carrier and freezers. Clients and building yards executing the designs are located all over the world, resulting in strong contacts in Europe and Asia.
Tel +31 592 675767
Email: info@grootshipdesign.com
www.grootshipdesign.com
PR contact: mr. J.W. Cuperus