Delivery MV Orange Spirit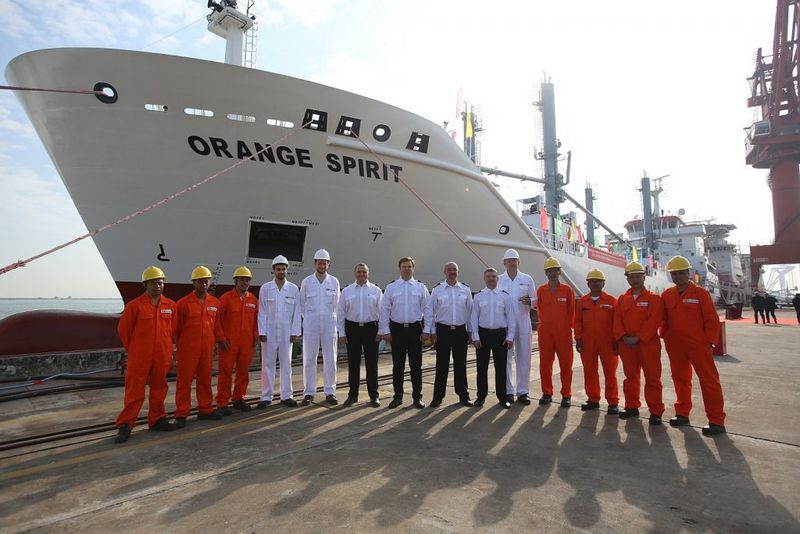 On December 20th last year 'Orange Spirit', the first vessel from a series of four freezers, was delivered to her owner Seatrade by shipyard Guangxin Shipbuilding & Heavy Industry Co., Ltd.
The vessel is designed as a high volume freezer (300,000 cubft) with limited draught and is equipped with loading booms to allow her performing efficient cargo operations at sea (transhipment operations).
During the design and engineering process Groot Ship Design worked together with Seatrade's specialists who were taken temporarily from the fleet to shore. This cooperation was highly valued and contributed to a better understanding between operations and engineering.
The hull lines and main performances of the vessel were determined in house by Groot Ship Design, using its own CFD program FINE/Marine from NUMECA. The hullform was further optimized, checked and model tested at MARIN research facility. Based on the input from Seatrade and requested performance it was decided to use a hull with bulbous bow and 2-stroke main engine for propulsion. Deck areas with sufficient work space and protection against piracy were considered from the early stage in the design. During design and engineering a 3D model, using the software of CADMATIC, was used showing the team how the vessel was going to look like. Using this kind of design tools for such a vessel with a lot of equipment and outfitting turned out to be very valuable and highly appreciated.
Groot Ship Design cooperated with the building yard during building and delivery, finalizing the delivery documents for the first vessel and her sisters soon to follow. After the delivery of 'Orange Spirit' in December, 'Orange Sea' is planned for delivery early 2019, 'Orange Stream' and 'Orange Strait' a little later. In advance of these four freezers the same shipyard also delivered the 'Juice Express' to Seatrade. The vessel is sailing a fixed trade with orange juice between Costa Rica and Tampa, Florida (USA) and returns with a diversity of cargoes. The 'Juice Express' is equipped with a Groot Cross-Bow®.
Groot Ship Design wishes the 'Orange Spirit' and her crew safe journeys and wants to congratulate Seatrade with the delivery of this vessel.