Blue Wasp Marine and Groot Ship Design announce next-step team-up for wind-assisted ship propulsion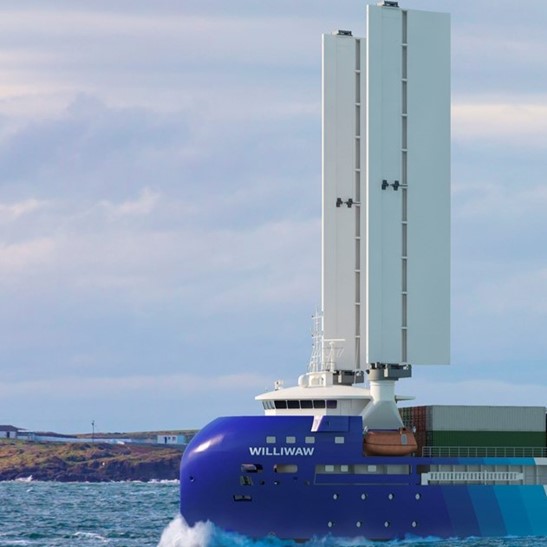 Blue Wasp Marine and Groot Ship Design have signed a principal collaboration agreement to work on the design of wind-assisted vessels. Both companies will remain independent, bringing their skills together for mutual benefit. The two companies are convinced that this decision is a good step forward on the track to make wind-assisted ship propulsion a reality for vessel owners and operators.
Everyone's a winner
Jan Willem Cuperus of Groot Ship Design: "There's a real added value for Groot Ship Design in working with the team at Blue Wasp Marine. The expertise they bring to the table offers our customers reliable knowledge and an experienced partner for the design and evaluation of wind-assisted propulsion systems. The collaboration will show improved efficiency in new designs resulting in a performance that exceeds the sum of the work of its parts."
The benefits go both ways, says Blue Wasp Marine's Nico van der Kolk. "For us, collaborating with Groot Ship Design provides access to a team of skilled naval architects and engineers familiar with innovative designs, along with a whole range of specialised software for structural strength and stability calculations."
Access to reliability
The main advantages of the collaboration, however, will be experienced by vessel operators looking to make their fleets more sustainable. Now, shipping companies have access to experienced naval architects and wind-assisted propulsion specialists at a single stroke, making the process both more efficient and more reliable.
Sign of the times
The two companies have a relationship that predates the collaboration. Nico spent the last year dividing his work time between Blue Wasp Marine and Groot Ship Design.
"The initial idea was that I would support Groot with naval architecture. What happened, however, was that I spent my entire time working on wind-assisted propulsion projects. That we encountered so many wind-assist projects is a real sign of the times. It was great to witness the potential of wind-assist first-hand in this way."
Tried & tested capabilities
The two companies have already developed a track record, working together on several projects. One example is the 'Williwaw project'. In this, the Blue Wasp Marine team and Groot Ship Design have worked together on the design of a 1300 TEU container vessel for France-based Zéphyr & Borée.
Using wind as the primary means of propulsion, the vessel will feature a CO2 output upto 50% lower than a conventional vessel with the same intake.
Nico: "This partnership takes our portfolio of services beyond the preliminary feasibility stage and brings it to maturity. Combining our specialist expertise in wind-assisted propulsion with Groot Ship Design's capacity and network means we can really start to make things happen in the field of wind-assisted propulsion and bring about a real difference in shipping emissions."
Groot Ship Design is a Dutch-based design house for sea-going cargo vessels up to handy size. The company provides design and engineering services to owners and shipyards and is successful with designs for Minibulkers, Multipurpose vessels, Project / Heavy Lift Vessels, Special type cargo vessels and recently a RoRo vessel for the transportation of space rocket parts (www.grootshipdesign.nl).
Blue Wasp Marine is dedicated to wind-assisted propulsion as a decarbonization solution for the maritime industry. Based on over a decade of PhD research, Blue Wasp has developed Pelican, a unique piece of design decision software that offers rapid, reliable performance predictions. With its highly flexible and customisable character, Pelican informs the correct decision making and ensures the best results in wind-assisted propulsion (www.bluewaspmarine.com).